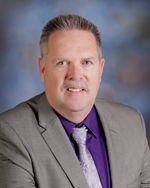 As a school community, we continue to struggle with the senseless tragedy that occurred in Parkland, Florida. When a school shooting or any type of violence occurs on a school campus, we all experience a wide range of emotions, including wondering if something like this could happen to our children. The Perris Union High School District (PUHSD) is committed to providing a safe environment for our students and staff, not just at times of heightened awareness, but as the top priority on a daily basis.
The responsibility of keeping our schools safe belongs to everyone. We must all continue to be aware of potential threats and hazards that could jeopardize the safety of students and staff alike. Please encourage your student to speak out if they see or hear anything that could pose a threat to school safety. Quite simply, "If you see something, say something".
Preparation and training is of the utmost importance and we continue to take proactive steps on every campus to ensure the effectiveness of our security measures. As parents, you place your trust in us each and every day when you send your student to school. As a district, we have no greater responsibility than to educate and keep your children safe. As such, I wanted to provide to you the following examples for how each school in the district ensure safety on our campuses.
The District continues to assess safety through the work of the Safety Committee, site administration, and staff. We will continue to examine methods to further tighten campus security and safety. School safety is taught and reinforced through emergency plans, district wide training exercises, and regular drills. Multiple fire, earthquake, and lockdown drills are mandated annually for every public school, per Education Code.
We contract with the Riverside County Sheriff's Department that supply us with three School Resource Officers (SROs) who work closely with PUHSD schools every day. The SROs are stationed at each of our comprehensive high schools. Afterhours law enforcement tactical training has also been staged at various campuses, including active shooter training. The PUHSD Administrative team continues to train and refine our emergency practices through Administrative Command Team training. All staff members are required to complete a yearly online active shooter training and active shooter trainings have been offered during our district wide professional days.
School facilities are designed to provide a safe environment. PUHSD has furthered its efforts to secure classrooms by installing door locks that allow all doors to be locked from the inside. The District has also also recently upgraded school surveillance cameras and equipment.
School lockdown protocol is designed to meet any real or perceived threat. Fortunately, most lockdown incidents are precautionary, such as heightened safety during nearby law enforcement activity.
During a lockdown when the threat level is unknown, parents and family members are expected to follow lockdown protocol. For example, rushing to a school on lockdown may seriously impede efforts by first responders. Therefore, it is essential that family members await instructions from the school or district office during lockdown.
In the event of an emergency, PUHSD will use an automated telephone dialer, email, and text messages for official instructions. School websites and district social media will also carry instructions for parents/guardians and staff in an emergency.
Following a lockdown, site administration will send an announcement, using the automated system, to inform parents about the causes and outcomes, to ensure factual information is given, and to combat rumors.
Students, parents, and families are the first line of communication regarding school safety: teach your children to have trust in school staff if they need someone they can talk to; teach them to say something if they see or hear something potentially dangerous or threatening. Stress the importance of being aware and acting responsibly. During school hours, any threats or concerns should be reported immediately to school staff. During evenings and weekend hours, contact local law enforcement to report any threats or concerns. We ask that you talk to your child about the risk of making comments that could be seen as threatening or dangerous to students or staff at a school. Even jokes and hoaxes threatening violence are taken seriously and could involve the charges filed by the Sheriff's Department.
In light of recent events, again, we wish to reassure parents, students and staff that the district is working hard and will remain vigilant to keep schools safe for everyone.
– Grant Bennett - Superintendent