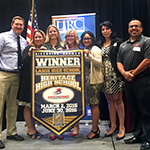 Heritage High School was recognized by the Riverside County Office of Education for the school's efforts to get students and parents to submit a Free Application for Federal Student Aid (FAFSA). The federal government provides more than $150 billion in grants, loans and work-study funds each year for students to attend college or career school. Graduating seniors from the class of 2014 throughout California lost out on $396,401,205 in federal Pell Grant funds in 2013-2014 because students failed to submit a FAFSA and the accompanying Cal Grant application.
Perris Union High School District is excited to promote and support the laudable goals of the Race to Submit and the Riverside County Education Collaborative (RCEC) to increase the percentage of FAFSA completions from 64% to 93% throughout Riverside County through school years 18-19.
For more information on Race to Submit, please visit the Riverside County Office of Education's Race to Submit site.