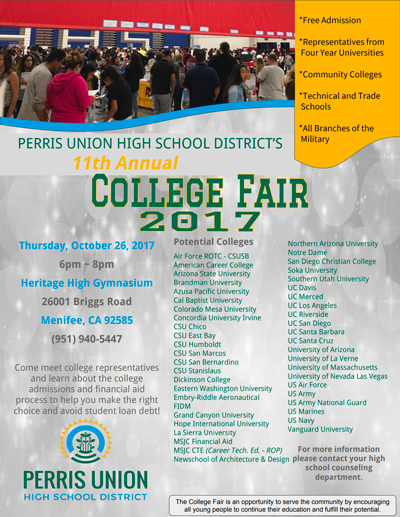 PERRIS UNION HIGH SCHOOL DISTRICT'S 11th Annual College Fair
Come meet college representativesand learn about the college admissions and financial aid process to help you make the right choice and avoid student loan debt!
Free Admission
Representatives from Four Year Universities
Community Colleges
Technical and Trade Schools
All Branches of the Military
The College Fair is an opportunity to serve the community by encouraging all young people to continue their education and fulfill their potential.
Thursday, October 26, 2017
6pm ~ 8pm
Heritage High Gymnasium
26001 Briggs Road, Menifee, CA 92585
(951) 940-5447
For more information please contact your high school counseling department.
---
PERRIS UNION HIGH SCHOOL DISTRICT 11a Feria Universitaria
¡Vengan a conocer a los representantes de las universidades y aprender sobre los procesos de la admisión al colegio y la ayuda financiera para ayudarles a tomar la decisión correcta y evitar la deuda del préstamo estudiantil!
Admisión gratuita
Representantes de las universidades de 4 años
Colegios comunitarios
Escuelas técnicas y profesionales
Todas las divisiones del servicio militar
La Feria Universitaria es una oportunidad para servir a la comunidad animando a todos los jóvenes a continuar su educación y realizar su potencial.
Jueves, 26 de octubre, 2017
6pm ~ 8pm
Gimnasio de Heritage High
26001 Briggs Road, Menifee, CA 92585
(951) 940-5447
Para más información, favor de ponerse en contacto con el departamento de orientación de su preparatoria.