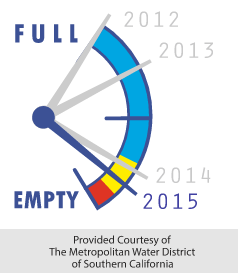 Eastern Municipal Water District
May 8, 2015: In response to the Governor's Order, the State Water Resources Control Board (SWRCB) regulations, and the exceptional drought conditions, EMWD's Board of Directors voted to move into Stage 4 of the Water Shortage Contingency Plan (WSCP), effective immediately.
We are asking all customers to cut outdoor watering 50 percent to help us meet the SWRCB requirement. Click here for ways to reduce your outdoor watering.
The Tier 3 (Excessive) water use category is eliminated as of June 1, 2015.
That means all water used above the amount provided for indoor and outdoor water use will be charged at the highest, Tier 4 (Wasteful) water use rate.
All outdoor water budgets are reduced by 10 percent as of June 1, 2015.
Read more...